Diamond Engineering has a long history in racing. We have worked with many of the top racers and teams to develop our fastener line into what it is today, Race Proof®. Listed below are some of the racers and teams past and present that have used and helped to develop Diamond Engineering's Race Proof® fasteners.
John Basore, Cycle Performance Products, H-D/Aermacchi vintage road racer
Jerry Cameron, Suburban H-D, Hot Street, Street Pro, Outlaw Street
Chad Cox, Hampton Roads H-D, Top Fuel
Mark Cox, Crossroads H-D, Top Fuel
Dan Fitzmaurice, Zippers Performance Products, Pro Stock
Gemini Technologies, H-D factory VR1000 race team
Glenn Kachel, Hip's House of Horsepower, Stock to Pro Stock
Travis Lummus, Gene Lummus H-D, Street Pro
Jim McClure, Master Performance Cycles, Top Fuel Legend and engine builder
Ray Price, Ray Price H-D, Top Fuel
Don Tilley, Tilley H-D, 883 Road racer, Buell Road racer, VR1000 Road racer
Johnny Vickers, Hawaya Racing, Top Fuel, Pro Fuel, Pro Gas engine builder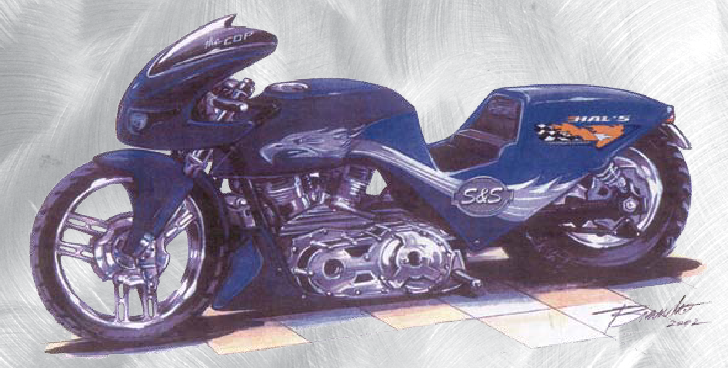 Pictured is Jerry Cameron's "Pro-Shocker". Jerry, better known as "The Cop", has been involved in Harley drag racing for years. He has numerous accomplishments throughout the years in many street classes. One of his most notable being two time Flash Race Champion with sub 7 second ET's in the eighth mile. Engineered and built to compete in AMRA's new Outlaw Street class, the Cop's new bike is sure to be a threat in this class as well. This new class is a step above Hot Street, allowing more cubic inches, multiple carburetion and lockup clutches. A maximum wheelbase of 70" and street tires must be used while no wheeiie bars or air shifters are allowed. The chassis is a modified 2004 Sportster by Jerry Cameron and Jody Schmeisser utilizing Kosman race components and completely assembled with Diamond Engineering's Race Proof® fasteners. The body is a custom carbon fiber Buell XB12 Hybrid by Supersound Composites.

The heart of the beast is a HAL'S Speed Shop 137" S&S Pro Stock engine. Countless hours of machining was done to make provisions for a charging system and starter on the Pro Stock motor. Rob Schopf of HAL'S did cylinder head porting and assembly while Diamond Engineering supplied all the necessary fasteners including custom made 630 stainless head bolts. To insure that this motor is fed an adequate amount of fuel Tom Bradford of Thunder Eagle Racing was enlisted to supply the Twin Super D's and intake. This bike debuted in 2006 and broke into the 8's at 150mph +.
---
About Diamond Engineering's Fasteners
Shown above is the correct to measure common fasteners. All common fasteners lengths are measured from under the head to the end of the bolt. For Flat Socket Caps since the underside of the head starts at the top of the taper you measure the length of the entire bolt as shown above.
---
Diamond Engineering offers kits in four different styles of fasteners
O.E. (Original Equipment) which will be a direct replacement, in polished stainless steel, of whatever type of fastener the factory used. Most O.E. fasteners for Harley Davidson® are socket caps. Therefore, most of the O.E. kits are comprised of socket caps.
Socket Cap kits are offered for most applications where O.E. bolts are not socket caps, so that a more uniform look can be achieved when customizing your Harley®
Groove style bolts are an original design by Diamond Engineering with two grooves CNC machined around the head or each bolt.

12 Point Race Proof® Fasteners are for the racer or or individual who wants the ultimate in fastener technology. Designed with a lower profile head and generous flange they offer function and style to any custom or race bike. They are only manufactured from the best materials which are certified SDF (Seamless and Defect Free), heat treated to a minimum of 180,000 PSI (20% Stronger than GR8) and then the threads are rolled to a UNJ3A spec.
Diamond Engineering manufactures a complete line of specialty fasteners to match all styles of heads. So whichever style you like you can buy matching specialty fasteners to finish your bike and keep the same look throughout. Some examples of the applications where we manufacture specialty fasteners in O.E., Socket Cap, Groove and 12 Point are Brake calipers and mounts, Motor mount spacers (Softail Twin Cam), Head bolts and Case bolts.
We offer over 1,000 kits but you may want a kit in a style of fastener that we do not offer in a kit. Just let us know what you would like and as long as there are no fitment issues we will be glad to make you a kit in whatever style fastener you like.